Sporting Legacy
Founded
Season 3
Ground
Athletic Ground
Capacity
12
Manager
Arsené Wenger
League
England League 3
Season 19
4th
Sporting Legacy is an English football club based in Athletic Ground, Wells, Somerset
. 
The team 
currentl
y plays in 
England League 3, under the management of A
rsené Wenger.
The club was founded in season 3, and was promoted to the William Hill League in season 7 under the name 'Hope and Glory'. This brief stint in England's top division was followed by a long period of turbulence and inactivity. New managers rapidly joined and left the team, and at some point the club was renamed 'FC 0 Shots on Goal'.
Midway through season 19, the club's current manager, Arsené Wenger, migrated from Ireland League 1 side Sporting Muff. Several players followed, and the club soon sported an active line-up. Despite half a season of inactivity, FC 0 Shots on Goal finished season 19 in fourth place.
The club's revival would play an important part in the revitalisation of England League 3. League activity quickly rose thanks to the arrival of new players and managers. During the following preseason, the club was renamed 'Sporting Legacy', a nod to the manager's previous team, and the last step in the club's transformation. Sporting Legacy started season 20 with an unbeaten run of 13 games, at last being forced to a draw by The Panther Cubs in their fourteenth game.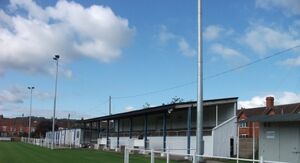 Since the club's recent takeover, it has shared a stadium with 
Wells City F.C.
 for use during home games. The ground's stands and pitch have had to be reinforced due to the arrival of Sporting Legacy's
morbidly obese
Adam Flaherty. In the club's first few home games, many fans complained about experiencing a strong gravitational force from Flaherty, claiming that their seats rotated in his direction. The team subsequently held a fundraiser in order to acquire the capital necessary to carry out the reinforcements.
First-team Squad

| No. | Position | Player |
| --- | --- | --- |
| 1 | GK | Sandro Almeida |
| 2 | CD | Naso Caelite |
| 3 | SD | Roberto Carlos |
| 4 | CD | Cristi Za Wall |
| 5 | SD | Joey Jones |
| 7 | SM | Ozymandias Sisyphus II |
| 9 | CF | Adam Flaherty |
| 10 | CM | Péder |
| 11 | CF | Victor Andrade |
| 20 | WF | Timinho Silva |
| 21 | CF | Ritz Priskin |
| 28 | DCM | Emmanuel Bandit |
| 33 | WF | Dano Drevo |
| 98 | GK | René 'El Loco' Higuita |